Hill Stationary Anatomotor Roller Massage Table
The Stationary-Top Anatomotor gives you the same quality of massage and spinal mobilization provided by our moveable-top Anatomotor in a 6'3" space. A reciprocating carriage moves the rollers at a speed just under the respiration rate. Unlike other massage tables, the back rollers are always in contact with the patient for a more relaxing and comfortable, deep-kneading massage therapy.
Model ST2 has two sets of back rollers that are spring cushioned and independently adjust in height to treat the kyphotic and lordotic curvatures at different settings. Model Option ST3 has a third set of massage rollers beneficial in treating the outer rib cage and larger patients. Heat and vibration options are available on both models.
The Stationary Anatomotor easily converts to a straight treatment table by inserting the filler block with face cut-out. A spring-recoil action of the filler-block may also be achieved. Unsurpassed in function, comfort, and versatility, the Anatomotor will give you years of trouble-free service.
ST2 Anatomotor Roller Massage Table
Starting at 4150.00 € Excl TAX
2 sets of Semi-pneumatic back rollers
Timer, filler block (insert), top pad and two-section pillow
Fixed Height from 56 to 81 cm / Width 54cm
Choice of 20 vinyl colors
Lifetime Warranty on Back-Rollers
5 Year Warranty on Motor and Gearbox
One-year warranty on all other parts (repair in return workshop)

Do you want a
Traction Anatomotor
instead?
Cliquez Ici
set up your table
Click and open the sections below and choose the options you need
choose your options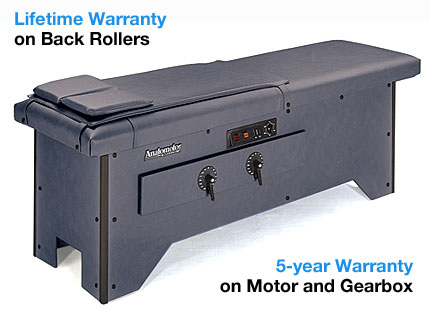 simulate your quote

* Prices shown are international shipping, import duties and customs duties included
*Prices are excluding VAT 20% effective in addition.
*The simulated price shown does not include delivery to your office.
*The indicated prices are subject to the fluctuation of the Dollar and the Euro, you must ask a confirmation of estimate and it must be sent to you.
*Order taking is subject to the terms and conditions of sale
* The additional costs linked to import costs and / or the additional costs linked to air transport will be directly attributable to the price of the goods.
Send your request, we confirm your quote delivery costs included in your office