The McKenzie REPEX™Table by Hill Labs
Robin McKenzie and Howard Hill have collaborated to produce the REPEX™ Therapy Table. Treating with the REPEX™ is based on the patient's directional movement preference and provides measurable and positive outcomes particularly in the management of acute/chronic low back and leg pain patients. The REPEX™ takes the patient through repetitive end-range passive-range-of-motion movements of flexion and/or extension.
The exclusive design of the REPEX™ was developed by Robin McKenzie to address mechanical disorders of the low back using the McKenzie Technique.
Use the REPEX™ if your patients:
- Have been assessed to benefit from the repeated movements on pain centralization, intensity and location in flexion or extension.
-Are classified as having degenerative discs, herniated or bulging discs, spinal stenosis, facet syndrome or sacroiliac syndromes where a limitation of movement occurs in the direction of "centralization".
-Are undergoing decompression therapy
Hill McKenzie REPEX II
Starting at 10095.00 € Excl TAX
Hill McKenzie REPEX II
Variable Cycle Speed, 1-8 Cycles per minute
Modern Touch Screen Controls
Exact Measurable Movement
On-the-Fly changes to angle, speed and hold-time
Sliding Face and Lower Sections for comfort during motion
Movement: Just Flexion; Just Extension or both in one cycle
Angle: Flexion and Extension controlled independently by doctor
Arm Rests
Slide-Out Foot Section
Width 27" / Standard Height - 26"
Choice of 20 vinyl colors for the top
Beige, Grey or Black thermo-plastic base cover with Microban; Antimicrobial Protection
One-year warranty on all parts (repair in return workshop)

set up your table
Click and open the sections below and choose the options you need
choose your options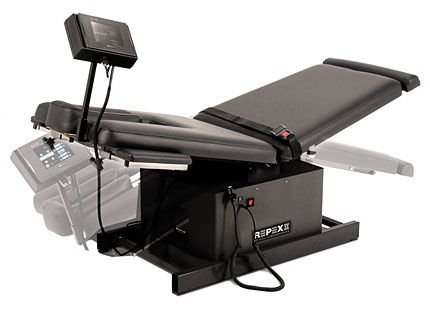 simulate your quote

* Prices shown are international shipping, import duties and customs duties included
*Prices are excluding VAT 20% effective in addition.
*The simulated price shown does not include delivery to your office.
*The indicated prices are subject to the fluctuation of the Dollar and the Euro, you must ask a confirmation of estimate and it must be sent to you.
*Order taking is subject to the terms and conditions of sale
* The additional costs linked to import costs and / or the additional costs linked to air transport will be directly attributable to the price of the goods.
Send your request, we confirm your quote delivery costs included in your office